My Blog
Posts for tag: dentures
By Douglas Pennino, DDS
May 21, 2018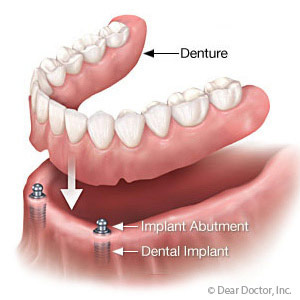 For generations, dentures have helped people avoid the dire consequences of total teeth loss. Now, implant technology is making them even better.
Composed of life-like prosthetic teeth fixed within a plastic or resin gum-colored base, dentures are manufactured to fit an individual patient's mouth for maximum fit, comfort and performance. But dentures also have a critical drawback—they can't stop bone loss in the jaw.
Bone is constantly regenerating as older cells dissolve and then are replaced by newer cells. In the jawbone, the forces generated when we chew travel through the teeth to the bone and help stimulate this new cell growth. When teeth are missing, though, the bone doesn't receive this stimulus and may not regenerate at a healthy rate, resulting in gradual bone loss.
Dentures can't transmit this chewing stimulus to the bone. In fact, the pressure they produce as they rest on top of the gums may actually accelerate bone loss. Over time then, a denture's once secure and comfortable fit becomes loose.
In the past, most patients with loose dentures have had them relined with new dental material to improve fit, or have new dentures created to conform to the changed contours of the jaws. But implant technology now offers another alternative.
Implants are in essence a tooth root replacement. Dentists surgically implant a titanium metal post directly into the jawbone that naturally attracts bone cells to grow and adhere to it over time (a process called osseointegration). This not only creates a secure and lasting hold, it can also stop or even reverse bone loss.
Most people know implants as single tooth replacements with a porcelain crown attached to the titanium post. But a few strategically placed implants can also support either removable or fixed dentures. Removable dentures (also called overdentures) usually need only 3 or 4 implants on the top jaw and 2 on the bottom jaw for support through built-in connectors in the dentures that attach to the implants. A fixed bridge may require 4-6 implants to which they are permanently attached.
There are pros and cons for each of these options and they're both more expensive than traditional dentures. In the long run, though, implant-supported dentures could be more beneficial for your bone health and hold their fit longer.
If you would like more information on implant-supported dental work, please contact us or schedule an appointment for a consultation.
By Douglas Pennino, DDS
June 09, 2016
People who've lost all their teeth have benefitted from a solution that's been around for generations: removable dentures. These appliances have helped millions of people chew and eat food, speak, and smile confidently.
But for all their benefits (including affordability) there's still some things you need to do to get the most out of them like cleaning them daily or having us check them regularly for damage and wear. And, there's one thing you shouldn't do: wear them around the clock. Not removing them when you sleep at night can harm your oral health and reduce your dentures' longevity.
Dentures are fitted to rest on the gums and the bony ridges that once held your natural teeth. This exerts pressure on the underlying bone that can cause it to gradually dissolve (resorb). This loss in bone volume eventually loosens your denture's fit. If you're wearing them all the time, the process progresses faster than if you took them out each night.
The under surfaces of dentures are also a prime breeding ground for bacteria and fungi. Besides unpleasant odors and irritation, these microorganisms are also the primary cause for dental disease. Research has found that people who sleep in their dentures have higher occurrences of plaque, a thin film of bacteria and food remnants that cause periodontal (gum) disease. They're also more prone to higher levels of yeast and the protein interleukin-6 in the blood, which can trigger inflammation elsewhere in the body.
To avoid these and other unpleasant outcomes, you should develop a few important habits: remove and rinse your dentures after eating; brush them at least once a day with dish or anti-bacterial soap or a denture cleanser (not toothpaste, which can be too abrasive); and take them out when you sleep and place them in water or an alkaline peroxide-based solution.
Be sure you also brush your gums and tongue with an extra soft toothbrush (not your denture brush) or wipe them with a clean, damp washcloth. This will help reduce the level of bacteria in the mouth.
Taking these steps, especially removing dentures while you sleep, will greatly enhance your well-being. Your dentures will last longer and your mouth will be healthier.
If you would like more information on denture care and maintenance, please contact us or schedule an appointment for a consultation.
By Douglas Pennino, DDS
December 03, 2015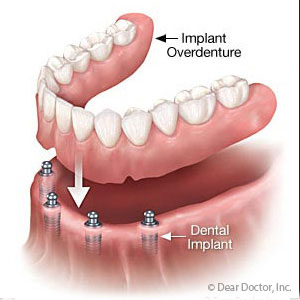 Although dental disease prevention has made great strides over the last century, tooth decay and periodontal (gum) disease continue to pose a major health threat. People who've lost all of their teeth (edentulism) or most of them suffer the most with adverse effects on their overall health, function and appearance.
Removable dentures have been the traditional and most affordable means to treat edentulism. But even with material and construction advances in recent years, dentures can still lose their fit over time as the bone in the jaw shrinks. This happens because the bone no longer has the stimulus of natural teeth and older cells can't be replenished at a healthy rate; the continuing compression of traditional dentures on the jaw's bony ridges compounds the problem.
As the bone shrinks the dentures become loose and uncomfortable to wear. Among other results, this poor fit can drastically affect how you eat: studies of denture wearers have found a decrease in their diet's nutritional value because they're eating fewer vegetables or fibrous, "chewy" foods and more foods with refined carbohydrates and fats that are easier to eat but less nutritious.
There is an alternative, though, that might slow bone loss and provide a better long-term fit: an overdenture supported by dental implants. With this appliance, a few implants are strategically installed in the upper or lower jaw. Matched attachments securely fasten the denture to the implants. In this case, the implants not the jaw ridge and gums support the denture thereby preserving the bone.
If you're healthy enough to undergo a tooth extraction, you should be able to handle implant surgery, a minor procedure usually performed with local anesthesia and with little to no discomfort afterward. It may even be possible to retrofit your current denture to work with the implants, but that will need to be determined during the planning stages.
Although more expensive than a traditional denture, overdentures are much more affordable than fixed restorations stabilized with implants. The difference, though, is the increase in your quality of life — for better nutrition, physical health and social confidence.
If you would like more information on treatment for teeth loss, please contact us or schedule an appointment for a consultation. You can also learn more about this topic by reading the Dear Doctor magazine article "Implant Overdentures for the Lower Jaw."