My Blog
Posts for: February, 2018
By Douglas Pennino, DDS
February 17, 2018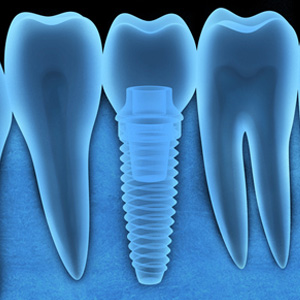 Dental implants are today's closest restorative facsimile to natural teeth. And they're versatile: not only can they replace single teeth but they can also support bridges or dentures.
But since one of their crucial components is made of metal, are you out of luck obtaining this state-of-the-art dental restoration if you have a metal allergy?
The answer is: probably not—it's rare for implants to cause an allergic reaction. Still, metal allergies can be a potential problem within your mouth as with other areas of health.
An allergy originates from the body's necessary response to potentially harmful microorganisms or substances. Sometimes, however, this response becomes chronic and exaggerated, creating an allergy. People can have allergies to nearly anything with responses ranging from a minor rash to a potentially life-threatening multi-organ system shutdown (anaphylactic shock).
A small number of people have allergies to particular metals. One of the most common is nickel, which affects an estimated 17% of women and 3% of men; cobalt and chromium are also known to cause allergies. Consumer exposure, particularly metal contact with the skin through jewelry or clothing, is the most prevalent, but not the most concerning. That's reserved for metal allergies related to medical devices like coronary stents or hip and knee prostheses. And in dentistry, there are rare occasions of inflammation or rashes from metal amalgam fillings.
Which brings us to dental implants: the main metal post that's inserted into the jawbone is usually made of titanium. It's the metal of choice for two reasons: it's bio-compatible, meaning the body normally accepts its presence; and it's osteophilic, which means bone cells readily grow and adhere to it, a major reason for implant durability.
While it's possible for someone to have an allergy and subsequent reaction to implants with titanium, the occurrences appear to be extremely low. In one study of 1,500 patients, titanium allergies were estimated to be a factor in implant failures in less than 1% of those studied.
Even so, if you have known metal allergies you should make sure your dentist knows. Being aware of all the facts will help them recommend the best tooth replacement choice for you—and hopefully it will be dental implants.
If you would like more information on dental implant restorations, please contact us or schedule an appointment for a consultation. You can also learn more about this topic by reading the Dear Doctor article "Metal Allergies to Dental Implants."
By Douglas Pennino, DDS
February 02, 2018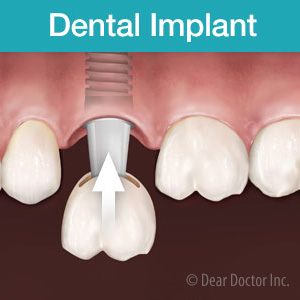 When it comes to replacing a missing tooth, you have several options, including a removable partial denture or a fixed bridge. But the premier choice is "the new kid on the block" at just over thirty years old: dental implants. Implants are by far the most popular tooth replacement choice among both patients and dentists.
But they also happen to be the most expensive option, at least initially. So the question is, why invest in dental implants over less costly choices?
Here are 3 reasons why implants could be well worth their price.
More Like a real tooth than other restorations. Implants can match the life-like appearance of any other replacement choice, often utilizing the same types of materials. But where they really excel is in function—how they perform while biting and chewing. This is because the dental implant's titanium post imbedded in the jawbone replaces the tooth root. No other dental restoration can do that—or perform better when comparing the resulting functionality.
Best long-term solution. As we mentioned before, the initial implant cost is typically higher than either dentures or bridges. But you should also consider their durability compared to other choices. It could be potentially much longer—possibly decades. This is because the titanium post creates an ultra-strong hold in the jawbone as bone cells naturally grow and adhere to this particular metal. The resulting hold can withstand the daily forces generated during eating and chewing. With proper care they might even last a lifetime, and actually cost you less in the long run over other choices.
Adaptable to other types of restoration. Implants have greater uses other than as individual tooth replacements. A few strategically placed implants can also be used to support removable dentures or a fixed bridge for multiple teeth or an entire dental arch. As the technology continues to advance, implants are helping to make other restoration options stronger, more stable and longer lasting—and adding more value to your investment.
If you would like more information on dental implants, please contact us or schedule an appointment for a consultation. You can also learn more about this topic by reading the Dear Doctor magazine article "Dental Implants 101."